Influenza vaccinations –
a gift for you all
Our enterprise offers all employees an influenza vaccination. This is a voluntary service that many take advantage of since it saves them paying a visit to their primary care physician, which often entails long waiting times, and is also free-of-charge for the Erbe workforce. The team at the reception desk in Tübingen schedules appointments before the flu season begins.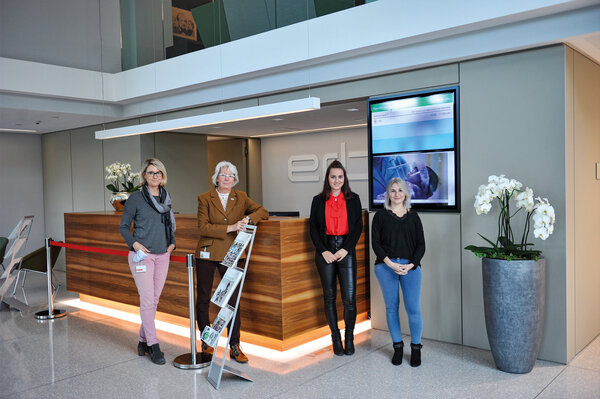 Influenza has a strange reputation in Germany. Everyone knows about this pesky viral disease and almost everyone has come down with it at least once in their life, with some even contracting it several times and being plagued by symptoms for days or weeks.
Influenza is highly infectious, with those who fall ill often infecting their entire family, other students in their class or colleagues at work. The disease inflicts people of all ages. It can prove life-threatening for the elderly and people with pre-existing conditions. The death toll during a severe flu season quickly rises into the thousands. Despite this being a well-known fact, many view it with complacency rather than caution.
Enterprises like ours offer their employees a vaccination as a voluntary service. The vaccinations are administered on site by the company physician, which is practical because the small prick of the needle takes only seconds. The whole procedure doesn't even take as long as it does
to read this article. By getting a vaccination, you protect yourself along with others.
I got a vaccination too and am very grateful for this service. I don't have to go to the doctor after work and sit around in a waiting room together with sick people. All I need to do is register via mail. The friendly lady at the reception desk gave me an appointment during my working hours. And even if I had had to wait until I got off work, I would have gladly made use of this offer.
In September, Selina Wenz, Anja Kocher and Kerstin Leukart from Personnel Services organized appointments for over 120 colleagues along-
side their routine tasks, making sure that their fellow employees – in particular risk patients – got protected as quickly as possible.
They deserve our respect and a heartfelt thank-you!