Erbe South-East Asia (SEA)
Erbe Elektromedizin GmbH - Setting Standards since 1851
As a family-owned and operated business, Erbe develops, manufactures and markets surgical systems for professional use in various medical disciplines all over the world.
Erbe technology leads the market in many countries and is therefore an inherent part of the working processes in the OR. The products are thus helping to provide the best possible treatment for patients. The portfolio comprises devices and instruments for electrosurgery, thermofusion, plasmasurgery, cryosurgery and hydrosurgery. By combining these technologies, innovative applications become possible, particularly in general surgery, gastroenterology, gynecology, pulmonology and urology.
Erbe employs more than 1000 people worldwide, over 650 of them in Germany. Approx. 170 employees work in research and development. The intensive collaboration with renowned users from medical schools and hospitals is the key to success with which Erbe successfully furthers developments in medicine.
In 2007, Erbe established a representative office for South-East Asia in Singapore and in 2013 Erbe Singapore Pte. Ltd. was opened.
Country responsibility
---
The subsidiary is responsible for the following regions:
Australia, Brunei, Bhutan, Cambodia, Indonesia, Laos, Malaysia, Maldives, Micronesia, Myanmar, Nepal, New Caledonia, New Zealand, Philippines, Singapore, South Korea, Sri Lanka, Thailand, Vietnam.

Team and Sales organization
---
Erbe SEA is located at the German Centre, Singapore. The team works in tandem with Erbe Headquarters and the local distributors, with the vision in being a congenial partner of doctors and professional medical personnel to achieve top performance.

Erbe Care! Application and Service Support
---
Erbe care program offers the unmatched first line of application and service support for our products to convert them into clinical solutions with added value for you.
Click here to download the eFlyer for Erbe Care!

Erbe Academy Singapore
---
A space to learn, share and experience our technology.
Click here to download the flyer for the opening of the Erbe Academy.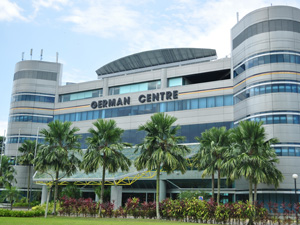 Erbe Singapore Pte. Ltd.
25 International Business Park
#02-61/64 German Centre
609916 Singapore
Product and Service Hotline:
Phone +65 65 6283-45
info@erbe-singapore.com